About Us
For some, Hurley Chiropractic and Wellness Center will take them back to a place that is cozy and familiar, offering chiropractic care that assists in a rediscovery of health and wellness that had been previously known but long lost. For others, the journey may offer a new sense of balance, one never before experienced.
People are recognizing the benefit of seeking an alternative to traditional medicine; one that will help them achieve and maintain optimal health. Please take the time to meet the doctor and our network of health and wellness care professionals dedicated to helping you achieve your wellness objectives. To fully understand the nature of your health we recommend you join our free website membership program.
As a patient at Hurley Chiropractic Center we will personally tailor a health and wellness program specifically targeted to your needs using the least invasive yet highly-effective techniques and services.
Schedule an Appointment!
Dr. Emily Hurley Baumann (Doctor of Chiropractic)
Dr. Emily Hurley is a Conway Arkansas native. She began her undergraduate studies at the University of Central Arkansas and later transferred to Brigham Young University in Utah. From the age of 16 and throughout her undergraduate studies she knew she wanted to follow in her mother's footsteps as a Doctor of Chiropractic. Dr. Emily Hurley graduated as a Chiropractor from her mother's alma mater, Logan University in St Louis Missouri in August 2019. Dr. Hurley has a special place in her heart for working with families, especially pregnant moms throughout their pregnancy and birth. She is passionate about empowering pregnant moms to advocate for the birth experience that they want and is trained in Webster technique and Logan Basic Technique. Dr. Hurley and her husband enjoy both traveling (especially to the beach!) and watching TV at home with their (many) pets. Dr. Hurley studied abroad in Spain, served a Spanish speaking mission for her church in California and has attended several Chiropractic mission trips in Mexico. She understands how intimidating it is to not feel confident in a foreign language and how difficult a language barrier can be. She has a love for providing Spanish speakers with the healthcare that they need. La Dra. Hurley habla español. Por favor llama nuestra oficina y pregunta por ella para comunicarse en espanol.
Dr. Luke Broom (Doctor of Chiropractic)
Dr. Luke Broom is from North Louisiana, where he attended Louisiana Tech University, earning his B.S. in Clinical Kinesiology. During his time of undergraduate studies he also grew to love functional movement and pursued coaching. He holds a Crossfit Level 1 coaching certificate, as well as a USA Weightlifting coaching certificate. Dr. Broom earned his Doctor of Chiropractic from Parker University. During his time in school, he focused heavily on being proficient in motion palpation and adjusting the full body, as well as dynamic rehabilitation. Dr. Broom loves learning more about human movement, trying new activities, and hobbies so that he may best serve you in reaching your health and wellness goals. Outside of the clinic, Dr. Broom is spending time with his wife and children, as well as his church family. Dr. Broom loves to read books, mainly Christian Reformers and Puritans, and play/compete in disc golf.
Dr. Christine A. Hurley (Founder)
Dr. Hurley was a success story in spite of all odds. She faced a significant amount of adversity in her life but always fell back on her desire to serve others. During her 25 years in practice, she took Hurley Chiropractic from a small town location in Perryville, Arkansas to a multi-million dollar integrated wellness company in Conway, Arkansas. Dr. Hurley was known for saying, "My vision is to serve as many people as possible, and to do so in a way that allows our patients to feel loved and cared for. We want to ensure they're listened to and uplifted by coming into contact with our team. When we grow, we do so only in ways that serve our patients better." Dr. Hurley shared that her compassion for other was because she had such intense personal experience with physical pain. It was this compassion that drove Dr. Hurley's focus and practice. As a leader Dr. Hurley was known to treat her team as family. She said "I truly believe in and live by this quote by Zig Ziglar- if you help enough people get what they want, they will help you get what you want." Dr. Christine Hurley founded Hurley Chiropractic in February 1994 She attended Logan College of Chiropractic, St. Louis, MO and graduated with Doctor of Chiropractic degree in December, 1993 Dr. Christine Hurley passed away in May 2019 and was survived by her three children to carry on her legacy, including her oldest daughter Dr. Emily Hurley to take over Hurley Chiropractic.
The Doctor is Ready to See You!
Complete The Form Below and We Will Contact You.
Meet Our Staff
Massage Therapy Staff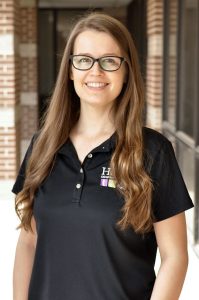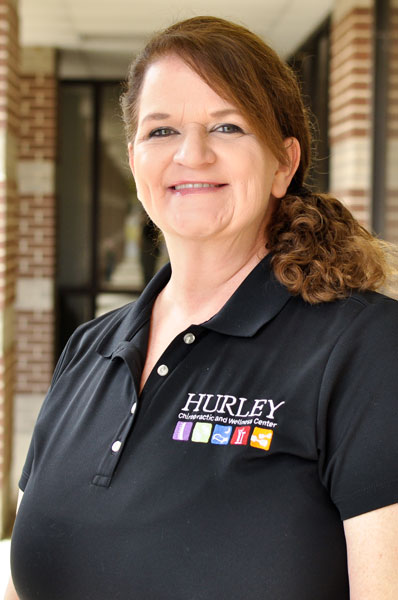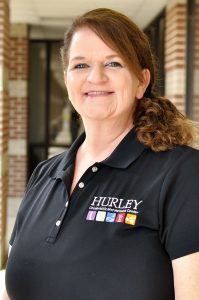 Therapy/Rehab Staff
Front Desk Staff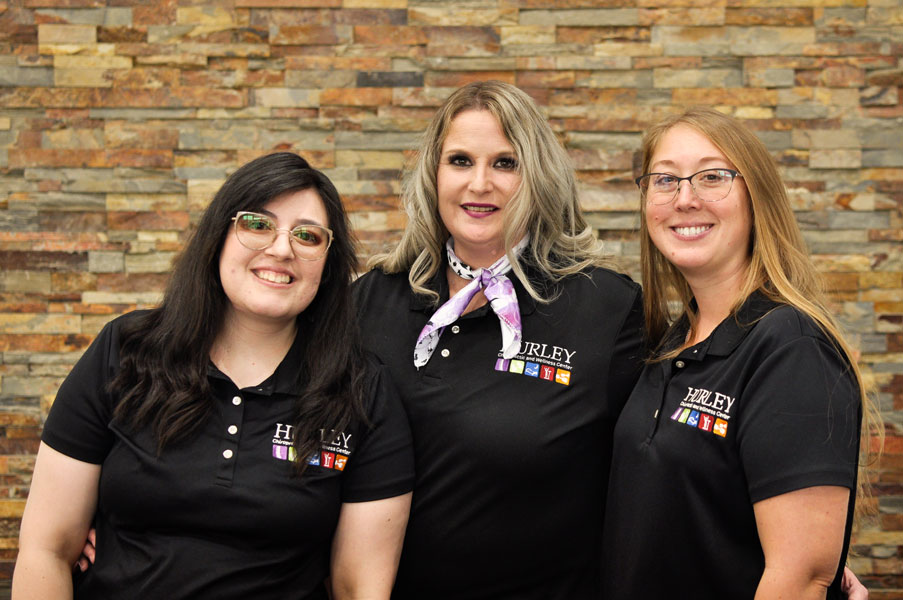 Meet our Staff at Hurley Chiropractic. People are recognizing the benefit of seeking an alternative to traditional medicine; one that will help them achieve and maintain optimal health in their time of need. Our team is standing by to assist you and your family with your wellness needs.
LISTEN TO WHAT OUR HAPPY PATIENTS ARE SAYING
I have seen the nurse practitioner for injections in my knees. I had severe pain in both knees before the injections started. After 3 injections to my left knee, my pain went from an 8 or 9 to a 0 or 1. My injections to my right knee just started by already the pain has been reduced. I am now able to walk without severe pain to my knees. I am very thankful this service is offered by Hurley Chiropractic & Wellness Center. It has kept me from having to have knee surgery.
I was told by my Dr. that I needed surgery on both shoulders. I could barely move my arms. Because of Hurley Chiropractic, I didn't have the surgeries & now have full movement of 1 shoulder & nearly full movement of the other one.
The most excellent services and staff. They will take care of all insurance issues, do a comprehensive exam before beginning treatments to pinpoint your exact needs and have great availability. HIGHLY RECOMMEND!!!! Four star service for sure.
Like Us! Let Everyone Know!
Read ALL Our Reviews HERE